Flat and Villa: Your Gateway to Elite Property Ventures
In the vast universe of real estate, finding that perfect property can often feel like searching for a needle in a haystack. Enter Flat and Villa's digital platform, an exceptional fusion of technology and real estate expertise. Think of it as a concierge service, only it's available 24/7 and right at your fingertips. Whether you're flying across Dubai's skyline or daydreaming of tranquil chalets in Ain Sokhna, Flat&Villa caters to every wish and desire. Dive in as we unveil the various features that make Flat and Villa Real Estate a game-changer in the world of property search and purchase.
Dive into a User-Friendly Experience with Flat&Villa
One of the first things you'll notice when you visit Flat and Villa (F&V) website is how seamless and user-friendly it is. Tailored for both English and Arabic speakers, the platform promises a bilingual navigation experience. Whether you're looking to buy apartments for sale in Dubai or explore sea-view villas in North Coast, Flat and Villa Real Estate ensures you'll find what you're looking for in no time.
Additionally, the search engine in Flat&Villa is intuitive, with options for filtering, using prices, installment plans or areas, that allow users to narrow down their choices. And with the rising trend of mobile searches, Flat and Villa ensures its platform is mobile-friendly, giving users the flexibility to search for their dream homes from any device.
Discover Projects through Engaging Visuals
If you're someone who believes in seeing to believe, Flat and Villa's YouTube channel is just for you. Videos introducing apartments, villas and all types of units for sale in both residential and investment projects such Belle Vie Compound Sheikh Zayed and Livelli Mall New Cairo, providing potential buyers with a comprehensive visual guide. This visual approach helps individuals get a vivid idea of what's on offer through Flat & Villa, ensuring they're well-informed before making a decision.
Experience Your Future Home with VR Tours
There is more. Imagine getting a feel of your potential new home without even stepping foot inside it. Flat&Villa's website offers a Virtual Reality (VR) feature, letting users embark on a 3D tour of units. This groundbreaking technology at Flat and Villa ensures that clients can virtually navigate every corner of their desired unit, offering a genuine feel even before a physical visit.
Market Needs? Consider Them Served
Understanding the ever-evolving real estate market can be tricky. With fluctuating prices and emerging trends, Flat and Villa ensures they're always a step ahead. The platform regularly updates prices, sizes, down payment and installments period, ensuring users always get the most accurate data. This attention to detail, coupled with the website's expansive listing of apartments, villas, and chalets in diverse areas such New Cairo, New Capital, Hurghada, October, Ain Sokhna and even Dubai, ensures Flatandvilla (F&V) serves the market needs flawlessly.
Real Estate Agents You Can Rely On
The journey of purchasing a property is monumental. Flat&Villa recognizes this and emphasizes having a team of trusted and helpful real estate agents. These Flat and Villa agents are not just well-versed with the essential details of the real estate sector in Egypt and Dubai but also prioritize client needs, ensuring a smooth and memorable property-buying journey.
Dive into Real Estate Investment Opportunities
The importance of real estate investment cannot be overstated. With booming locales like New Cairo and the New Capital becoming hotspots, Flat and Villa highlights major investment projects in these areas and others, guiding those interested to buy and invest in units to find the perfect fit for their needs and budget. For example, Flat and Villa presents all the necessary details, including price per meter of units, spaces, installments plans and services, of projects like The Ark Business District and Chess Field Mall New Capital which features strategic locations, guaranteeing high return on investment.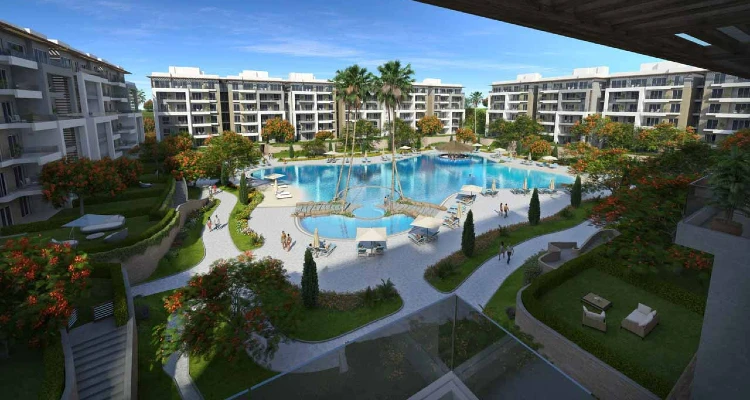 Stay Updated with Flat and Villa's Blog
For those hungry for more, the blog of Flat and Villa is a treasure trove of information. Dive into articles that provide insights, trends, and essential pointers about the real estate landscape in both Egypt and Dubai. It's not just a blog; Flata&Villa's blog is your guide to understanding the property market better.
In conclusion, whether you're a first-time buyer or a seasoned investor, Flat and Villa ensures a comprehensive, transparent, and user-friendly experience. With an array of features and a commitment to client satisfaction, Flat and Villa Real Estate (F&V) stands out as a beacon in the bustling world of real estate. So, the next time you wish to book or explore units for sale on installments, you know where to head. Dive into the world of Flat and Villa and let your real estate dreams take flight.